GUITARIST/COMPOSER
ADAM MOORE
APRIL 2015
SWUNG BY SERAPHIM
NEW EP WITH 4 GREAT TRACKS!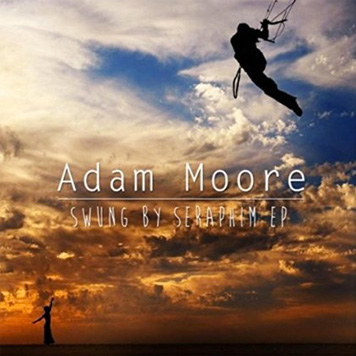 Striving Young Jazz Rocker Soars
by John Pritchard

The Swung By Seraphim EP features four tasty tracks that evoke a distinctively fresh sound that is clearly inspired from both genres of progressive jazz and instrumental rock. The phenomenal drumming of Chad Wackerman on The Theatre Garden and Swung by Seraphim provide the kind of innovative rhythmic background that gives the music a highly distinctive jazz-rock feel. The other musicians are equally very talented and combine to make all the tracks feel extremely solid and confident.

As for Adam Moore's guitar playing, it is simply outstanding and his compositions demonstrate an elegant sensibility that invites multiple listens. His solo guitar piece, As A Pendulum Swings Through Smoke, is particularly lush and sonicly beautiful. His vocals on track 4, Serpentine, are both a surprise and a perfect complement. In short, this fine young striving jazz rocker is not only producing great fusion... he takes you to even greater heights with music that can really soar!

5 Stars. HIGHLY RECOMMENDED!

Purchase at Amazon and iTunes.

Visit Adam's official website: www.adammooremusic.co.uk

SWUNG BY SERAPHIM

1. The Theatre Garden
Adam: Guitars & Programming
Tiago Coimbra: Bass
Matt Moore: Keys
Chad Wackerman: Drums

2. As a Pendulum Swings Through Smoke
Adam: Guitar

3. Swung By Seraphim
Adam: Guitars, Bass, Keys, and Percussion & Programming
Mattias IA Eklundh: Guitar Solo
Clive Hitchcock: Tenor Sax
Chad Wackerman: Drums

4. Serpentine
Adam: Vocals, Guitar & Bass
Matt Hodges: Piano
Alex Best: Drums

Composed, produced and mixed by Adam Moore
Mastered by Matt Moore