BASSIST/COMPOSER/PRODUCER:
COLIN TRUSEDELL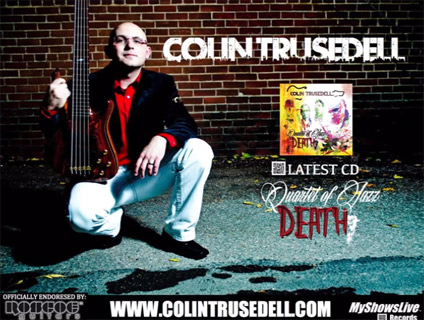 "QUARTET OF JAZZ DEATH"
Release Date: November 4, 2014

Lineup:
Colin Trusedell (Electric Bass)

Featuring:
Steve Langemo – Electric Guitar
Shawn Hanlon – Keyboard and Synthesizer
Stefan Flores – Drumset
Special Guest John Dawson, Tenor Saxophone
on "Soaring" & "Creator"
Recorded at Colorado Sound in Denver, Colorado
Tracked and Mixed by Jesse O'Brien of Colorado Sound
Mastered by Tom Capek of Colorado Sound
"QUARTET OF JAZZ DEATH" KILLS IT!
Five Stars***** - Reviewed by John Pritchard

Bass player/composer Colin Trusedell always liked the name of the amazing jazz-rock "TRIO of DOOM" group featuring John McLaughlin, Jaco Pastorius and Tony Williams. So, since he performs with this quartet of great sounding, high calibre musicians, he decided to pay a homage to the "TRIO of DOOM" and call his new album the "Quartet of Jazz Death."

Needless to say this is indeed a great group of talented musicians who can play just about any kind of genre really, really well. The album is a thrilling and widely creative collection of music that ranges from extremely tasty, high energy, super tight jazz fusion (track 1, The Escape, track 9, Soaring, and track 11, The Pursuit) to traditionally inspired blues (track 2, Truckin' With Timmy) to ultra-creative rhythmic electronica (track 3, Darkness of April, and track 7, Recklessly Evolving) to laid back, masterful soloing (track 4, By Design, and track 8, Freedom Gate) to wonderfully sombre, fluidly atmospheric bass music (track 10, Creator, see video below). My personal favorite is track 5, Wide Open, which has it all: great overall composition with strong rhythms, innovative melodies, multi-layered harmonies, and fantastic, inspired solos...especially Colin's basswork!

In watching the promo video track, The Escape, it was the first time I had ever heard Colin's music and after multiple listens it continues to be most definitely impressive! Check out the video below and see for yourself... these guys can play!

Five stars! - John Pritchard

The album is available on Collin's website: www.colintrusedell.com
and on band camp: colintrusedell.bandcamp.com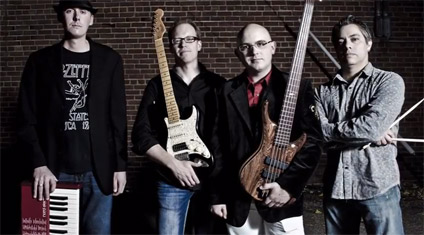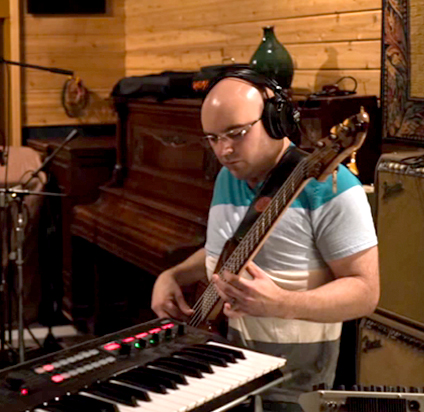 Colin Trusedell - Electric Bass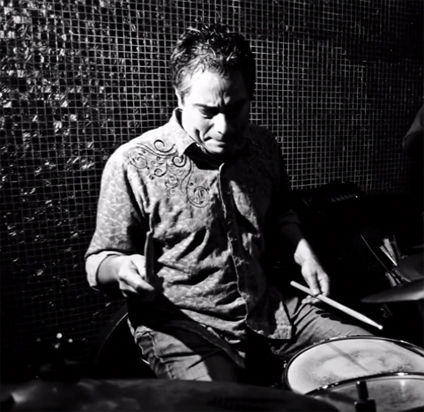 Stefan Flores – Drumset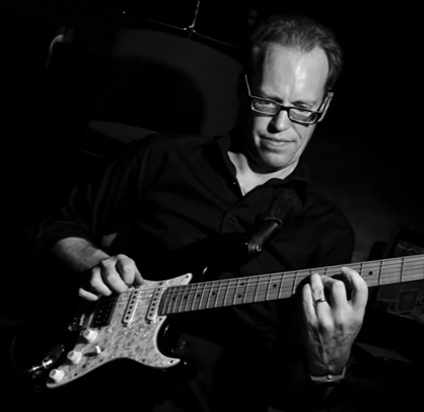 Steve Langemo – Electric Guitar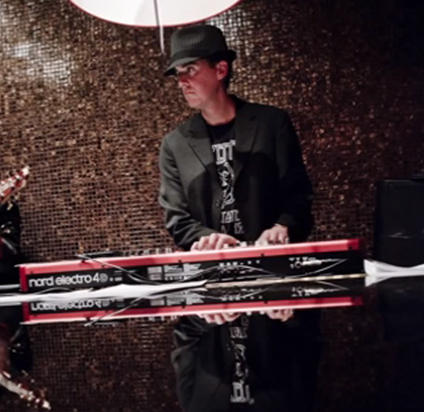 Shawn Hanlon – Keyboard and Synthesizer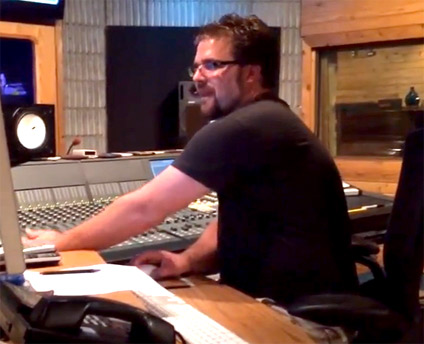 Tracked and Mixed by Jesse O'Brien of Colorado Sound

MESSAGE FROM COLIN:

This record is 100% original funk, fusion, electronic, jazz music that was written by me and played by the Quartet of Jazz Death. This project could not have been completed without the amazing musicians that played on it. Huge thanks goes out to Steve Langemo, Shawn Hanlon, Stefan Flores, and John Dawson. I also have to thank my beautiful wife Kelli, and my son Ari, for supporting me through all the long hours and days of practice and preparation. My parents, Jean and Steve Trusedell, and in-laws, Diane and Mark Riggins, have also provided much needed support, which is greatly appreciated. Thanks again and I hope you enjoy "Quartet of Jazz Death."
Colin Trusedell is officially endorsed by Roscoe Basses and Guitars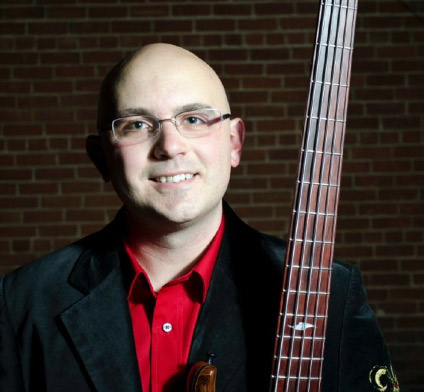 ---
ALL ABOUT JAZZ REVIEW
Colin Trusedell: Quartet of Jazz Death
12/30/2014 - C. Michael Bailey
Bassist Colin Trusedell made his recording debut with the very fine Some of My Best Friends Are... Divas. This recording, by relative unknowns, late of Armed Forces service, put together a cogent and well-focused jazz vocal recording that intelligently surveyed the American Songbook. Scoring such a success, what does Trusedell do for a follow-up? He goes in a diametrically opposing direction with Quartet of Jazz Death.
The disc open with a cacophony of jazz sounds mashed together, like entangled electromagnetic wave traveling in space and being picked up by some ancient detector, like an AM radio receiver. Then the sound becomes decidedly 21st Century by way of 1990s contemporary jazz. Drummer Stefan Flores lays down a Stanton Moore vibe that is quickly filled in with Trusedell's percolating five-string electric bass. Guitarist Steve Langemo quickly establishes his fusion chops just ahead of keys player Shawn Hanlon. "Truckin' with Timmy" is a slinky traditional head mixed in with some crazy time changes. Think an updated "Blue Rondo a la Turk." Langemo spreads on the church before switching to all things modern. This is an excellently conceived piece by Truesdell, who has composed all eleven pieces on this release.
On this and his debut recording Truesdell proves himself a funky melodic bassist with a keen and well-studied ear for arrangement and improvisation. The two recordings support his depth and breadth as a musician and composer. In a field as choked as that of adult contemporary jazz, Trusedell carves himself out a place where he can both have fun and take himself seriously. That is an enviable place to be.

- All About Jazz, C. Michael Bailey -


---
BASS MUSICIAN MAGAZINE REVIEW
U.S. Air Force Bass Player and CSU Educator Colin Trusedell's New Funk Fusion Album
12/11/2014 - by Raul Amador

Colin Trusedell's brand new release, "Quartet of Jazz Death," is an original adventure of Fusion/Jazz Electro Funk music that will be sure to have you placing this record in the top of your listening rotation no matter what your tastes are. Colin Trusedell is an upright and electric bass player originally from Indianapolis, Indiana who is a touring artist and educator. This is Colin's second release as a band leader following his 2013 release, "Some of My Best Friends Are…Divas." Colin is currently the adjunct Professor of Bass at Colorado State University – Pueblo and the Musical Director for the United States Air Force Academy Band's Top 40 ensemble, Blue Steel.

The Quartet of Jazz Death consists of some of the best and most well-know musicians in Colorado; Colin Trusedell on electric bass, Steve Langemo on electric guitar, Shawn Hanlon on keyboards and synthesizer, and Stefan Flores on drum set. This album is a compositional debut for Trusedell, featuring 11 brand new compositions and electronic midi samples giving the listener a broad landscape of texture and musical color.
Soaring melodies, funky grooves, drum & bass electro/fusion jazz music, played by amazing musicians filling your ears with awesome music!
Colin Trusedell is officially endorsed by Roscoe Guitars and played his custom Roscoe LG-3005 on all track on "Quartet of Jazz Death."
Similar Musical Comparisons:
Tribal Tech, Snarky Puppy, John McLaughlin, Adam Nitti, Funky Knuckles, Gary Willis, John Scofield, Steps Ahead, Weather Report, Deadmau5.

- Bass Musician Magazine, Raul Amador -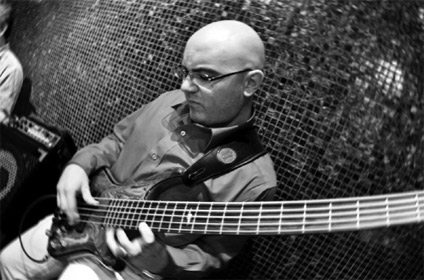 COLIN's BIO

Colin Trusedell is originally from Indianapolis, Indiana where he began playing the upright and electric bass at the age of 13. While in high school, Colin had the privilege to study with the renowned Indianapolis musicians Brent Wallerab, Gary Wasserman, Joe Deal, and Harry Miedema and had the opportunity to perform with Allen Vizzutti and Dick Oatts. After graduating high school, Colin was accepted into the Navy Music Program. He attended the Navy School of Music where he graduated in the top 3rd of his class and was then assigned to Navy Band Northeast, stationed in Newport, Rhode Island. From 2004 to 2008, Colin performed with the Navy Band on regional tours from New York to Canada and appeared on NBC's Today Show, Fox and Friends, the Montel Williams Show, and with the Boston Pops Symphony Orchestra.

In 2008, Colin separated from the Navy and received a full tuition music scholarship to attend the University of Miami's Frost School of Music where he studied with Chuck Bergeron, Don Coffman, and Nicky Orta. Colin performed with Tierney Sutton as well as the famed University of Miami groups, Jazz Vocal 1 and the Funk Fusion Ensemble. He graduated with an Undergraduate degree in Music Business and the Entertainment Industries.

Colin is also the owner and Booking Agent for his a booking agency called MyShowsLive. Since 2008, this agency has provided musical talent and sound support for gala events, cocktail receptions, board dinners, and private parties throughout South Florida and Central Colorado. For over 6 years, MyShowsLive has supported several successful functions and engagements throughout Florida and Colorado including events for Baptist Hospital, Doctor's Hospital, South Miami Hospital, Baptist Children's Hospital, Homestead Hospital, the United States Air Force, Coral Gables Art Museum, White & Case LLP, Fujiyama and many private parties.

In July of 2011, Colin won the national bass audition for the United States Air Force Academy Band's contemporary music ensemble BLUE STEEL. He is now the bassist, Musical Director, and Tour Manager for the United States Air Force Academy Band's premier pop & rock ensemble BLUE STEEL in Colorado Springs, CO. In 2012, Colin recorded the bass with BLUE STEEL on the Air Force Public Affairs award winning album "Unclassified."

In the summer of 2013, Colin released his first album as a band leader called "Some of My Best Friends Are...Divas," featuring jazz vocalists Krista Joyce, Julie Bradley, and Victoria Bruyette. The recording was rated as one of the "Best of 2013" on AllAboutJazz.com. In 2013, Colin completed his Masters Degree through Boston University's Master of Music Education Program, graduating with honors. Most recently, Colin has taken on an adjunct bass faculty position at Colorado State University - Pueblo and just released his second album as a band leader, "Quartet of Jazz Death," featuring his original funk and fusion compositions.




Visit Colin's Website:
www.colintrusedell.com

Visit Colin's YOUTUBE Channel
youtube.com/ColinTrusedellMusic

Visit Colin's SoundCloud Page:
soundcloud.com/colin-trusedell