GUITARIST/COMPOSER/BANDLEADER:
RENAUD LOUIS-SERVAIS - R.L.S.G.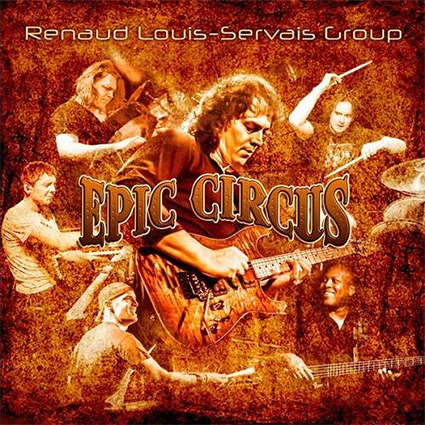 ORDER THE ALBUM FROM iTUNES
ORDER THE ALBUM AT ABSTRACT LOGIX

R.L.S.G.: "EPIC CIRCUS"
EPIC CIRCUS IS TRULY EPIC!
April 20, 2016 - JAZZ-ROCK.com REVIEW by John Pritchard

It has been almost exactly four years since jazz-rock.com reviewed the incredible "ILUNA" album by French guitarist Renaud Louis-Servais (see review below), and now with his newest work, "EPIC CIRCUS," we are even more amazed! In the liner notes, Renaud says, "you'll find some happy bright and optimistic tunes like in a joyous circus for sure, but also darker, heavier, and warlike ones. So please take this album as a demonstration of what I like the best in music." And what a great demonstration it is!

Case in point is the title track of the album. When you watch the "Epic Circus" video below, you can see Renaud's prodigious guitar talent in full glory. The surgical precision of his right hand seems to channel the legendary talent of both Jeff Beck and Eddy Van Halen into one fluid stream of extremely excellent guitar playing with exceptional finesse.



So, who are all the musicians playing on this extraordinary album? Let's begin with the phenomenal bass playing of Henri Dorina who also played on "ILUNA." I love this guy. Bright. Solid. Inventive. He oozes soulfulness (especially on track 4, "Long Breath" and track 8, "All Minor Blues"). Not to mention he played with one of my favorite drummers of all time, Paco Sery. As every great guitarist requires, Henri and Renaud sound joined at the hip. After multiple listens, I think this is the underlying key to the success of the entire album and critical for such a solid musical partnership. Henri and Renaud sound very tight. Check them out playing together live in the video below… it's from the first track of the album called "Carry'n." Way to go Henri!



The drummer and keyboardist you see in the video are French drummer Aurélien Ouzoulias, who plays on all the tracks except "Epic Circus" and "Techno City," and French keyboardist, Christophe Cravero, who plays on four tracks: "Carry'n," "Long Breath," "Techo City," and "You've Got Nothing." Christophe really brings a tasty keyboard sensibility to the sound of the album, especially on track 4, "Long Breath" and track 6, "Techno City." When not playing with Renaud, Christophe tours with the Billy Cobham band where he also plays violin: Christophe with Billy Cobham. And with respect to playing serious jazz music, check out this video here: Christophe Jazz Piano.

Drummer Aurélien Ouzoulias is the driving force of the album. His progressive metal approach to the drums is what gives the tunes a heavier, edgier appeal and what this reviewer believes is the difference between Renaud's last album and this one. Aurél has a real talent for driving the beat, but not so hard that it makes the music sound too heavy metalish. He is not a headbanger (although his solo album "Playground" definitely features some serious head banging drumming), he is much more of a rhythmically, dynamic, double pedal-to-the-metal kind of drummer. Watch him playing his composition, "Skip the 16th": Aurél Skip the 16th video. And I personally love his take on the jazz-rock classic, "In The Dead of Night": Aurél In The Dead of Night video.

Now we come to jazz keyboardist Philippe Saisse who is perhaps the most influential contributor to the album playing on four of the nine tracks. He also has a composing credit for "Zaku Patatu" which begins with a very cool vocoder intro and features a super, great keyboard solo about half way through. The song was initially composed for the PSP band (Saisse/Phillips/Paladino) which they played during their concerts but never recorded. Philippe gave it to Renaud as a gift for the album, so that song could have a "second life". Renaud re-arranged it into more of a "rock" sound which is the version you hear on Epic Circus! In a ProgSphere interview, Renaud said that Philippe is not only a fantastic keyboard player, but an awesome arranger. On the second track, "Freedom," Philippe worked in several vintage keyboard layers and "the song was really different before and after his contribution. He's a kind of magician." Philippe has strong roots in both jazz and rock having studied with Gary Burton on vibraphone and recorded with Al DiMeola, David Bowie, Chaka Khan, Al Jarreau, Gato Barbieri, The Rolling Stones and others. Here is Phillipe with drummer Simon Phillips and bassist Pino Palladino in the PSP band: PSP Band Live.

In that same ProgSphere interview, Renaud said it was also incredible to work with Australian drummer extraordinaire, Virgil Donati, and that "he really understood what I wanted to do, and he really helped me, for example proposing to me a very exciting drum/piano/bass arrangement on the song, "Techno City"." Virgil is well known as a drummer's drummer for his highly progressive "metal" style (and he also plays keyboards). Check out this classic Virgil drum solo that continues to inspire: Virgil Drum Solo. Virgil has played with Planet X, Allan Holdsworth, Steve Vai, CAB, Tribal Tech, Scott Henderson, Tony MacAlpine, U.K., and Kazumi Watanabe.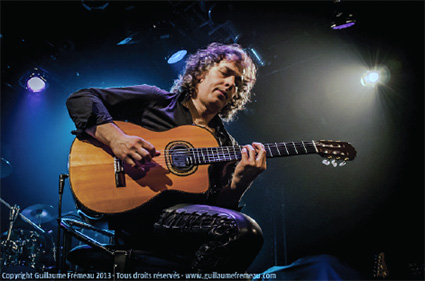 Of course, when you get to listen to the entire album, Renaud is front and center stage as he simultaneously serves as both soloist and ringmaster of this truly epic, musical circus! And if all that incredible playing wasn't enough, imagine Renaud finishing the album with a gorgeous, lyrical acoustic guitar piece entitled, "The Beauty of Life." That is the ninth and final track to what, in my humble opinion, is one of the best jazz-rock albums of all time! Another Renaud masterpiece. 5 stars. Highly recommended.

- John Pritchard | jazz-rock.com

ORDER THE ALBUM FROM iTUNES
ORDER THE ALBUM AT ABSTRACT LOGIX
ORDER FROM RENAUD'S WEBSITE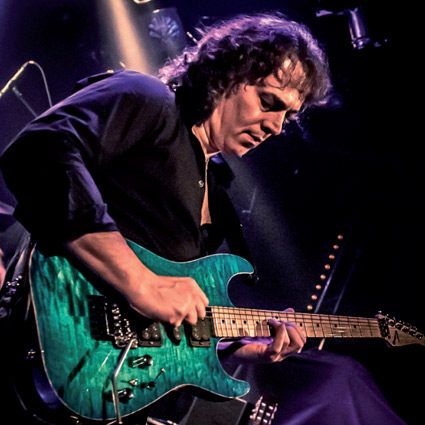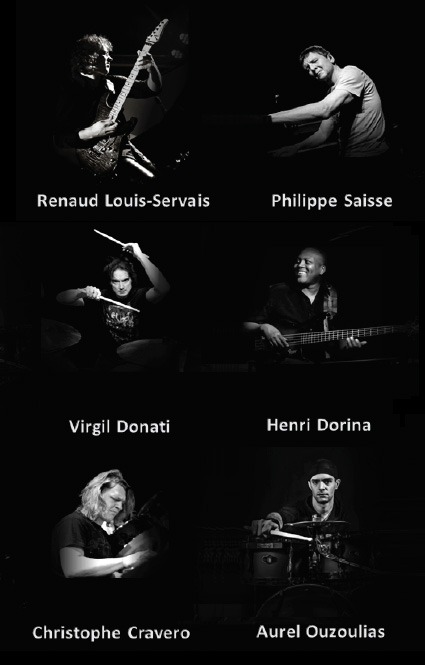 ---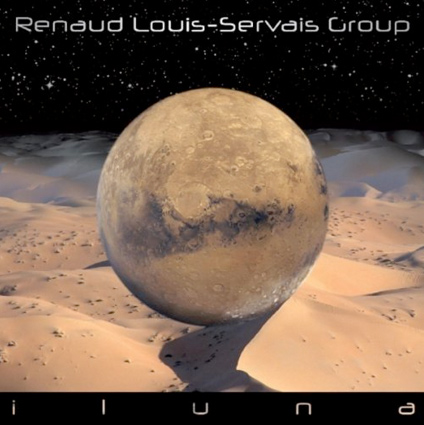 R.L.S.G. Debut: "ILUNA"
ORDER THE ALBUM FROM iTUNES
ORDER THE ALBUM AT ABSTRACT LOGIX
ILUNA IS A MASTERPIECE!
April 5, 2012 - JAZZ-ROCK.com REVIEW by John Pritchard

This new album of phenomenally tasty and exceptionally engineered music is a great debut for the Renaud Louis-Servais Group (R.L.S.G.). I love how the album starts with such a solid rockin' beat by drummer Alain Bidot-Naude over the pulsing synth of Franck Guicherd. Soon the solid basswork of Henri Dorina comes in and then on the 45th second, the pure sonic guitar sound of Renaud Louis-Servais lays down the opening theme. What a breath of fresh, French, fusion air! Renaud himself is wonderfully expressive, articulate, clean, and free of pretense. Nothing is under or overplayed. [check out his YouTube Channel for a closer look]

Like their leader, every band member is also a superb musician. Every track on the album is an inspiration. "ILUNA" is an amazing collection of original music that draws from almost every school of music in the jazz and rock genres. It is full of surprises. If you are a long-time jazz-rock aficianado, you are in for a true treat.

The guitar-legend influences are particularly noticeable if you are a fan of Jeff Beck, John McLaughlin, Allan Holdsworth, and Scott Henderson. I even hear a little Terje Rypdal in some of those long, soaring sustains during the trilogy of opening tracks. Speaking of which, what a great way to start an album. It is as if Renaud is giving us a mini-25 minute lesson in the history of electric and acoustic jazz-rock music. It is all so very cohesive and balanced.

While Renaud clearly embraces all his heroes, he also ingeniously presents us with his own unique voice and point-of-view. He is extremely fluid. Hugely emotional. You really feel it! I am particularly blown away by his acoustic guitar playing!

Renaud's creativity (and, dare I say, gratitude) is particularly noticeable on the fourth track of the album, simply called "Pat." It is perhaps the greatest tribute to guitarist, Pat Metheny, ever recorded. He uses the trademark Metheny synthesizer sound to not only create 3 great minutes of music, but it is like he is giving thanks to one of his favorite master teachers. And my oh my has Renaud learned his lessons well.

Every track on "ILUNA" features a wide spectrum of talent from each and every band member. Not one weak link. Everyone complements one another and plays his heart out. Just what we all hope every album should be.

While there is a huge variety of compositional styles, inventive time signatures, and flawless playing by the entire band, it is ultimately the masterful guitar work of Renaud Louis-Servais that unifies it all into a single masterpiece called "ILUNA."

Can't wait to see these guys live! Highly recommended. 5 stars.

- John Pritchard | jazz-rock.com

---
WOW! 5 stars ***** at Amazon.com
February 18, 2012
By Eugene Strader, Jr. "Geno" (Indianapolis, IN.)
Found these cats while listening to some channel on my ROKU box. Did some research and found them on Amazon. Got the CD and I've been blown away! Real fusion. Great musicianship, excellent songs. It's good to hear musicians have not given up the art of fusion. If you're looking for some great music that's smokin' get this CD.

---
RENAUD LOUIS-SERVAIS - FRENCH FUSION GUITARIST
March 15, 2012 by Jon Bloomer at Guitar Noize

RLSG (Renaud Louis-Servais Group) is the story of four French musicians with a common passion for jazz, rock and fusion brought together to play Renaud Louis-Servais's music. Their album "Iluna" (2011) mirrors what has always been driving them musically: the pleasure to move freely between 'metal', progressive music, jazz and rock, with a lot of attention paid to compositions and sound quality. It was recorded and mixed by Steve Prestage (Gino Vannelli, Gary Moore, Peter Gabriel, Marc Bolan…) who provided an incredible experience. Three tracks from this album reached semi-final stages at the prestigious International Songwriting Competition (ISC), and the album was very well reviewd in the USA, Holland, Italy and France.

As you can hear in the video below, Renaud is a very tasty player wielding a lovely Tom Anderson guitar that he endorses. If you like what you hear, head over to Renaud's website to hear more samples from the album and information on where to purchase. www.rlsg.fr




RENAUD LOUIS-SERVAIS GROUP: ILUNA

Featuring:
Renaud Louis-Servais (guitars)
Alain Bidot-Naude (drums)
Henri Dorina (electric bass)
Franck Guicherd (keyboards/trumpet)

Guest artists on ILUNA:
Alessandro Nocco (saxophone)
Guillaume Roussel (keyboards)
Djamila Ghilani (vocals)

R.L.S.G. is the story of four musicians with a common passion for jazz, rock and fusion brought together to play Renaud Louis-Servais's music.

In 1997, Renaud set up the 'Jade' trio, with Laurent Quantin (drums) and François Munier (bass). Laurent Canas (a keyboard player who used to play with Michel Jonasz) joins the band in 1999, and the bass player is replaced by Eric Evangelista. A new quartet is born and starts playing concerts locally.

Laurent Quantin leaves the band in 2000 and is replaced by Alain Bidot-Naude, newly arrived from the Basque country with a first prize from the Agostini school in Bordeaux in his pocket. The quartet has found its name – Iluna – and plays a lot of concerts around Paris and at the Baiser Salé jazz bar (Paris). A four-track demo recorded in 2001 gets very good reviews. Henri Dorina, bass player, joins the quartet in 2003. The band matures thanks to this experienced musician who has worked alongside Rido Bayonne, Moktar Samba and Paco Sery. Laurent Canas leaves the band in 2006 and is replaced by Guillaume Roussel.

In 2008, the band reaches semi-final stages at the prestigious International Songwriting Competition with its title 'Gimmick', and again in 2009 with two titles 'Thème d'Iluna' and 'Euria (Cycle de la pluie)'. At that point, the band felt the need to record the different facets of its music and began digging through the music material composed over the past 10 years (almost literally!) to select part of it for the album.

Instead of recording in a 'conventional' studio, the idea was to set up two fully compatible home studios, to work separately whilst being able to share recordings. Alain set up one studio for acoustics, drums and brass, and Renaud another to record the bass, guitar and keyboards. Recording could begin, with the help of Steve Prestage (Gino Vannelli, Gary Moore, Peter Gabriel...) who provided valuable sound recording advice... Guillaume Roussel and Franck Guicherd – who joined the band in 2010 – shared keyboard recordings. Alessandro Nocco, met in 2008, travelled specially from Italy for 4 days to record saxophone parts and several months later… the debut album was finally ready.



ILUNA TRACKS

1. Trilogie d'Iluna, Part 1 - Theme d'Iluna
2. Trilogie d'Iluna, Part 2 - Euria (Cycle de la Pluie)
3. Trilogie d'Iluna, Part 3 - Chani (Cycle du Desert)
4. Pat
5. Gimmick
6. La Quete de Roland
7. Magnet 7
8. Pulse
9. Dom

"This album mirrors what has always been driving me musically, the pleasure to move freely between 'metal', progressive music and jazz. Some might feel the result is unclassifiable… so much the better! Surprising as it may be, mixing different genres comes naturally to us. This album is aimed at an audience unconcerned with clearly labelled and neatly defined styles… We've taken great pleasure in creating this 'unidentifiable musical object', and now we cannot wait to play it for you. This is when the adventure will really begin…."

- Renaud Louis-Servais -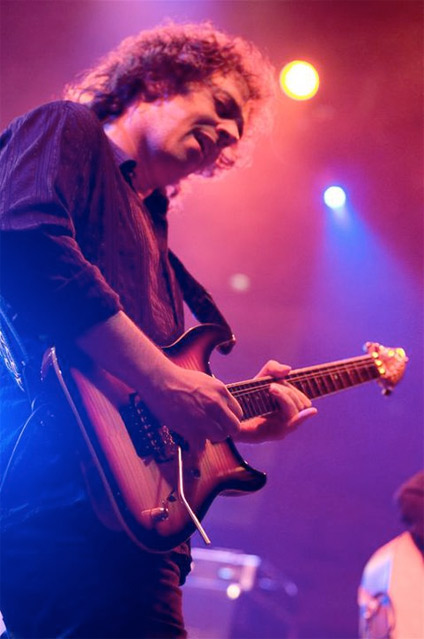 Renaud Louis-Servais (guitars)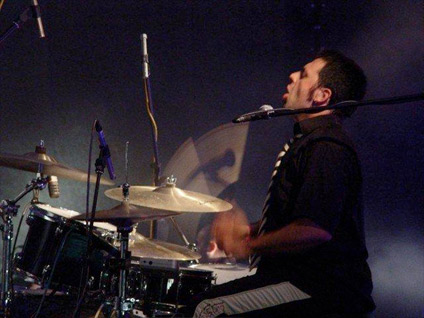 Alain Bidot-Naude (drums)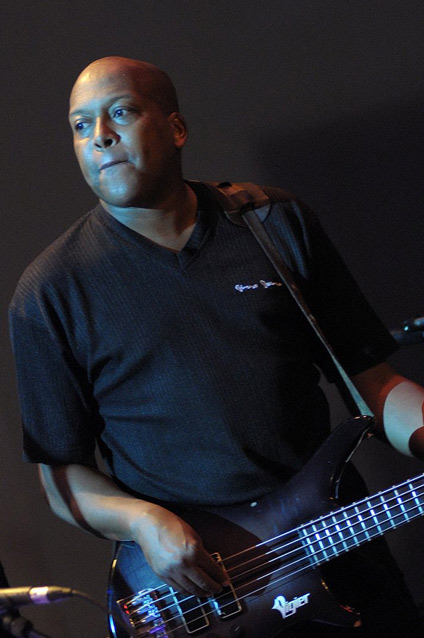 Henri Dorina (electric bass)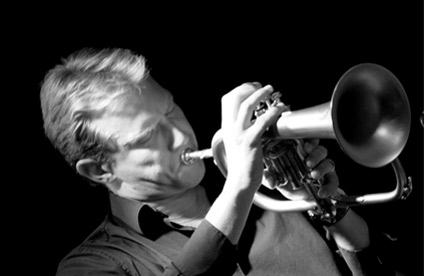 Franck Guicherd (keyboards/trumpet)


---
ILUNA is mixed by Steve Prestage

The mixing of ILUNA was done by Steve Prestage, who also recorded the drums and guitars. Steve is an english sound-engineer now living in France. He's got an outstanding resume of experience, working with artists such as Gino Vannelli, Peter Gabriel, Gary Moore, Prince, etc... In France, he records and mixes Gerald de Palmas' albums, among others. He is an amazing engineer.
www.myspace.com/steveprestage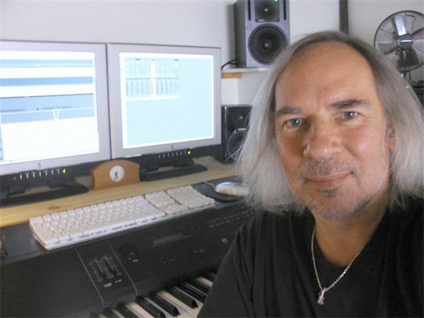 ---
ABSTRACT LOGIX REVIEW
ILUNA
9/05/2011

A 25-year veteran of the European touring circuit despite not yet being 40 years old, French guitarist Renaud Louis-Servais shows inherent seasoning on his self-titled quartet's new Iluna debut. The crafty leader most recently performed and practiced with his rhythm section of Henri Dorina (bass) and Alain Bidot-Naude (drums) for 10 years before adding keyboardist/trumpeter Franck Guicherd and entering the studio.

Iluna illustrates both the chemistry and trust between the talented quartet's members, allowing Louis-Servais to wear his formidable rock and fusion influences on his sleeve. His opening three-song cycle spans 24 minutes, with "Theme d'Iluna" leading off. Guicherd's atmospheric synthesizer intro leads to several rhythmic shifts by Dorina and Bidot-Naude as the guitarist's use of sustain echoes Gary Moore and Steve Vai.

"Euria," part two of the cycle, downshifts into a 6/8-timed cadence that showcases Louis-Servais' clean-toned rhythm playing and soloing. Guicherd shows his dexterity by playing a trumpet solo (as well as keyboard parts on both acoustic and Fender Rhodes electric pianos), and Dorina effortlessly switches from fretless bass back to fretted for part three, the classically-influenced "Chani" (with a chanted intro by Djamila Ghilani, the only vocal on an otherwise instrumental disc).

Guicherd sticks to acoustic piano on "Pat," since Louis-Servais provides the plugged-in textures on guitar synthesizer in a salute to Pat Metheny. The leader also shows glimpses of John McLaughlin, Allan Holdsworth and Scott Henderson throughout, yet still manages to display his own style as both a player and composer. "Gimmick" is anything but, featuring a rollicking rhythmic undercurrent, boogie-woogie piano accompaniment by Guillaume Roussel, and banner solos and trades between Louis-Servais and saxophonist Alessandro Nocco.

The saxophonist returns for the tranquil "La Quete de Roland," which spotlights Louis-Servais' acoustic guitar finesse, and also for the closing "Dom." After the core quartet lures the listener into a fiery, 7/8-timed "Magnet 7," and hints at Jeff Beck on the atmospheric "Pulse," Nocco rejoins the lineup to take Louis-Servais' final influential nod even further into the stratosphere.

On "Dom," the guitarist's clean-toned chords introduce an insistent rhythmic pattern by Dorina and Bidot-Naude, plus accompanying textures by Guicherd and Nocco -- all of which help to build the thematic, whammy bar-driven epic. The feel here is reminiscent of Beck's 1980 CD There and Back, an appropriate theme for Louis-Servais' initial lunar mission.

ORDER THE ALBUM ONLINE AT ABSTRACT LOGIX


---


RENAUD's BIO

Renaud Louis-Servais was born in 1972.

Influenced by his father, a classical guitar player, he started learning the guitar at 8, with his older brother Olivier. At that time, they are both immersed in the music of the hard-rock bands of the 80's. At 13, he joins his brother in the French hard-rock band 'SENTINELLE' and for five years played many concerts. In the 80s, he joined 'SOON', a pop-rock cover band, scouring the pubs in Parisian suburbia and 'learning the job'.

From then on, his influences get more diverse (jazz, progressive rock, jazz-rock, funk, Latin music). Yes and Weather Report are two major discoveries and, listening to a wide range of artists, he gradually builds his own guitar style. Gary Moore, Robben Ford, John Mc Laughlin, Pat Metheny, Georges Benson, Scott Henderson, Frank Gambale and Allan Holdsworth all are major influences...

Renaud Louis-Servais is the official demonstrator of Tom Anderson guitars for France

Visit RENAUD's WEBSITE at www.rlsg.fr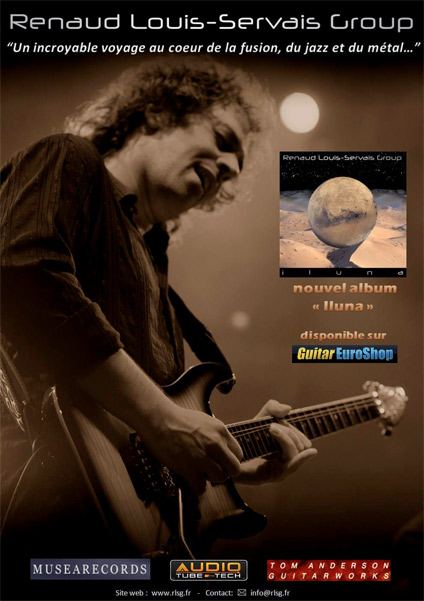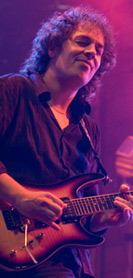 Visit Renaud's Website:
www.rlsg.fr

Visit Renaud's TWITTER page:
twitter.com/RenaudLS

Visit Renaud's FACEBOOK page:
facebook.com/pages/RLSG-Renaud-Louis-Servais-Group

Visit Renaud on YouTube:
www.youtube.com/renaudls

Visit Abstract Logix:
EPIC CIRCUS Album

Visit Renaud at
REVERBNATION